Books
Latin America Textile Business Review (1st Edition)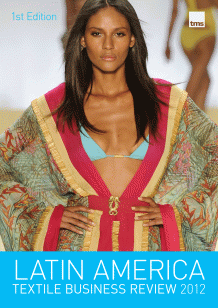 Latin America Textile Business Review, a unique reference resource of the textile and clothing industries in Central and South America, as well as selected Caribbean countries, including: Argentina, Bolivia, Brazil, Chile, Colombia, Costa Rica, Dominican Republic, Ecuador, El Salvador, Guatemala, Haiti, Honduras, Jamaica, Mexico, Nicaragua, Panama, Paraguay, Peru, Uruguay and Venezuela.

Written by Jozef De Coster and with more than 330 pages and over 315 tables, Latin America Textile Business Review provides timely information enabling, manufacturers, consultants, buying and trading organizations, research institutes and marketing associations to make critical decisions about new markets and sourcing opportunities in this rapidly developing region.

Latin America Textile Business Review includes the latest available statistical information on 20 countries in this emerging market, and an in-depth analysis of the current and future business environment affecting the region's textile and apparel sector.

ISBN 978-0-9573-6160-7

Published by Textile Media Services
Directories
The Directory of Brand Name Manufacturers and Importers
The up-to-date, easy-to-use directory listing brand label name manufacturers in the women's, men's, children's & accessory markets.

Developed & targeted for store and catalog buyers to shop the apparel and accessory markets easily. Over 2,800 brand label names listed, broken down by apparel classifications.

Domestic manufacturers and importers are listed and broken down in over 65 categories of apparel type. Great for buyers, retailers, suppliers, salesmen & all industry executives.
CDs
Polymers - A Property Database
Polymers - A Property Database provides scientific and commercial information on polymers in a single, first-stop reference invaluable to anyone involved in polymer science and technology.

It guides the user through the primary literature via reference citations and through the realm of supplier details by providing trade names and commercial product information. No single polymer dictionary supplies all the data found in Polymers - A Property Database in such a user-friendly, fully searchable system.